REFUND POLICY
In this page you'll find all the information about the Refund Policy. Please, read it carefully.
Approval period
SmartSystem offer to you up to 14 days to test with your hand every products in our catalog purchased online via this website. This is not applicable to special order items / customized or discounted ones and to all the products where STEADICAM® components are included. Within this period the customer could request a full price refund (shipment and customs costs excluded).
Return Merchandise Authorization Number (RMA)
Before sending the product back to SmartSystem, the customer must request a valid RMA number directly to our accounting office at +39.0721.1830469 or sending an RMA request to . The RMA code is mandatory in order to accept the product(s) back to our facility.  Any package(s) that doesn't have the RMA Code clearly attached on the outside of the package itself, will be rejected and send it back at customer address and at customer expenses.
Product Returns
The returned items must  be shipped with a valid Merchandise Authorization Number (RMA#) as stated before. All returns must be packed exactly as received i.e. in their original box. All non-compliant packages will be shipped back to the customer at customer expense. The returned item(s) must be insured for the purchase value of the contents, in the case of shipping damage or loss. The shipping costs for returning the products and any other relevant amount, such as local taxes, customs duties, import and / or customs clearance are borne by the customer and will be deducted from the final payment. Returns are not accepted for special order items. The returned item(s) must be shipped to :
SmartSystem Srl
Via del Commercio, 22F
61032 FANO (PU) – ITALY
telephone : +39.0721.1830469
email:
Restocking Fees
SmartSystem  reserves the right to verify that the returned product is in a perfect working condition without scratches or whatever. We reserve the right to apply a minimum of 20% re-stocking fee, if it is not in re-sellable, like new condition.
Refunding
After the receipt of the returned item(s), SmartSystem will check the product(s) within 5 working days. After this period, our accounting office will contact the customer via the email issued by the customer during the checkout process in order to inform him about the refund amount. The method of payment of the refund amount will be the same used by the customer for the payment of the item(s) ordered. In the case of Wire Transfer, our accounting office will request to the customer the bank information for the refunding (i.e. Bank Name, Swift Code, IBAN).
REFUNDING FLOW CHART
In order to simplify the correct process of a refund, here you are the flow chart that the customer and the company must follow. Click on the image to download a pdf version for your convenience.
Customer Side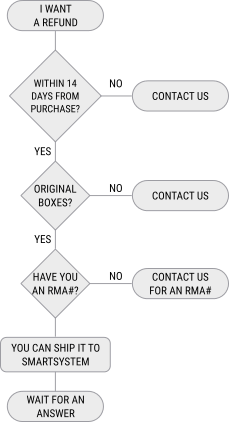 Company Side